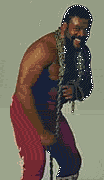 Junkyard Dog
Sylvester Ritter a.k.a. Junkyard Dog was one of the most popular wrestlers of the 1980's. He was one of the original wrestlers involved with the WWF before Vince McMahon began to slowly destroy it. Junkyard Dog was distinguished by the chains worn around his neck; an accessory which supported his wrestling moniker.
Junkyard Dog's popularity spanned around the globe. Fans were heard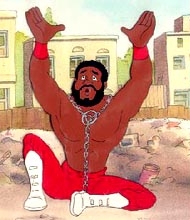 to chant "JYD" in support of him. His theme song was "Another One Bites the Dust". The 80's being what they were, incorporated Junkyard Dog into just about everything. He was a character in the Saturday morning cartoon "Hulk Hogan's Rock n' Wrestling", even though none of the actual wrestlers were voice actors for their characters. At the end of almost every episode, the closing sequence would include Junkyard Dog doing some sort of dance while saying "Get down with the dog."
With wrestling's popularity during this time, LJN produced a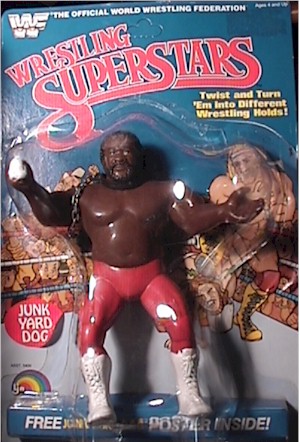 series of action figures for the WWF wrestlers, one of which was Junkyard Dog. Each wrestler was made of a flexible rubber material and included a poster.
Sadly, Junkyard Dog passed away on June 2, 1998. He was returning home to North Carolina from his daughter's graduation when he died in a car accident on the I-90 near Forest, Mississippi. he was 45 years old.
At the ECW's Wrestlepalooza PPV in Georgia, Junkyard Dog was honored and given one of the largest ovations from the crowd in the Cobb County Civic Center